Patrick Brown is a documentary photographer from Sheffield, England; who is now based in Bangkok, Thailand. His work spans a breadth of issues affecting the Asian region but it's his work capturing the illegal global wildlife trade which caught our attention. His latest project: Trading to Extinction is powerful collection of images spanning over ten years. The works include the poachers, dealers, markets, enforcement efforts, stockpiles and specifically the victims of the multi-billion dollar illegal trade.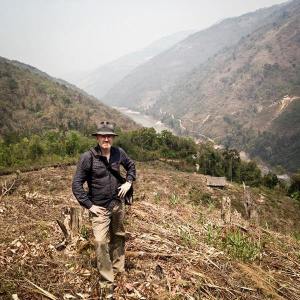 His exhibitions have graced the International Center of Photography in New York, USA; the Metropolitan Museum of Photography in Tokyo, Japan and the Visa pour l'Image in Perpignan, France.
Patrick Brown is the recipient of:
3P Photographer Award
World Press Award
Days Japan Award
Picture Of The Year Award
New York Photographic Book Award
NPPA's Best of Photojournalism Award
"For years, I have traveled across Asia to document the devastating impact of wildlife trafficking. I've witnessed how our planet's rarest creatures are being hunted, trapped and slaughtered to feed a global black market in wildlife products. This project is my attempt to expose that trade." ~ Patrick Brown
Please support Patrick's valuable work:
Official Website
Buy the Book
View Limited Edition Prints
Order Limited Edition Prints
On Facebook
On Instagram
On Vimeo
Unfortunately there's still a long way to go. This trade is without any doubt flourishing. However, I finally begin to see a coordinated political fight-back. An extraordinary worldwide movement is bringing together people from diverse backgrounds in a bid to save our most endangered species before it is too late. I hope our efforts will not be in vain.
Trading to Extinction
Trading to Extinction
Rangers @ Kaziranga National Park, Assam, India.
Wildlife Market

Shan Soldier / Mahout @ Doi Kaw Wan base camp, Burma
Moon bear @ Bile Farm in Rangoon, Burma
Lampang Elephant Hospital, Thailand

Wildlife raid in London, UK
Soldiers use elephants used to track poachers
Pangolins intercepted at Bangkok International Airport
Shark Fins @ Market in Guangzhou, China.
White Tiger Restaurants @ Guangzhou Chimelong Hotel, China
Pha Luang Ta Bua Tiger Temple, Kanchanaburi, Thailand