Peter Wilson operates a small dairy farm in The Crags, South Africa. He also kills primates. If Peter isn't killing off the local primates he's encouraging his staff to kill them via torture, shootings, stabbings and poison. Locals know he's on a genocidal crusade, yet few do or say anything. The Crags is a small town, word (and gossip) travel fast. Peter is a farmer and has little interest in the moral implications of his actions, nor does he seem to care about the risk for dangerous disease transmission from primates to humans. This is exactly that type of dangerous ignorance that is ravaging South Africa's wildlife.
I learned during my time in the area that it is his farm and poor management practices (eg. storage of livestock feed, silage, food waste, fruit trees, etc) which lures the local primates onto the farm for easy meals. Peter claims to all who listen that it's the fault of the primate sanctuary next door – which is primarily a natural habitat sanctuary but cares for some rescued and orphaned animals in enclosures.
The "relevant" wildlife authority – Cape Nature – and their ineffectual staff are well aware of his animal and environmental transgressions yet have to date refused to act responsibly and do something about it.
Their farm stall cafe is just off the R102 to Nature's Valley, 6602 The Crags, Western Cape, South Africa as shown in the featured image. Why not stop in and let them know you're opposed to Peter's bloody crimes against animals and the environment? Here's other channels to use in petitioning them for an end the wanton destruction:
On Facebook: Nature's Way Farm Stall – The Crags, South Africa
By Email: loredo@global.co.za
By Phone: +27 44 534 8849
In Person: R102 to Nature's Valley, 6602 The Crags, Western Cape, South Africa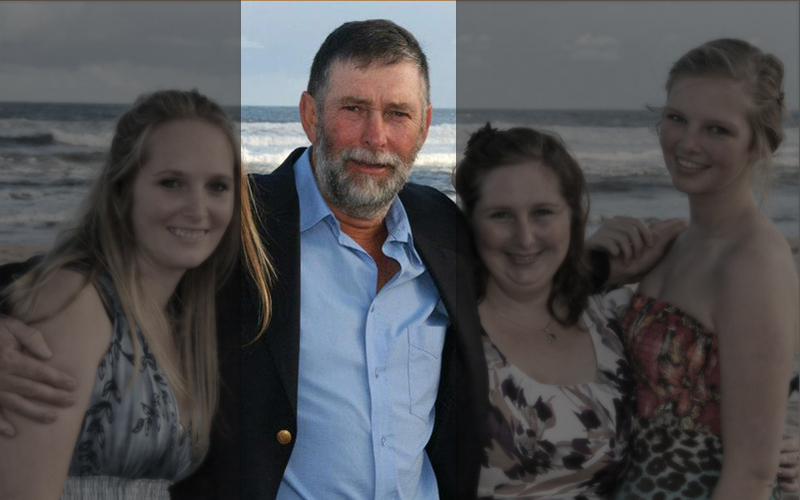 Alternatively, here's Peter shown with his three daughters, from left to right should you like to discuss the local primate genocide their father is personally sponsoring. They can often be found in and around the farm stall.
Anne Wilson
Helen Wilson
Kate Wilson
Judy Wilson (wife) – not shown but feel free to call her +27 (0)82 875 7044
Loredo Troop Members Murdered & Missing